Cactus Repotting Guide & Care Tips
 Repotting Cacti & Cactus Care Tips 🌵


Plants that we refer to as 'succulents' don't normally have spines but some cacti are the most difficult plants to handle - especially when big and spikey!
Most of the true 'cactus' type plants come from USA and south America but succulents of different types can be found all over the World.
In recent years both succulents and cacti have got extremely popular. The types  plants such as  Aeonium · Agave · Aloe · Crassula · Echeveria are probably more tolerant of moisture and colder climates than true Cacti are and are very easy to propagate too. 
popular succulents - Although very popular as house plants, some will thrive in garden and even overwinter in Britain.
Some species have large sharp obvious spines that can give you a nasty prick, however other species such as Opuntia (prickly pear cactus) can have less conspicuous tiny hair like spines, these are hard to spot and hard to remove, causing irritation to the skin.
Opuntia species with large pads.

So be careful and don't under estimate the ability of a plant to cause injury! - Obviously thick protective gloves should help but are often not much defense, other methods include folded newspaper methods, Tongs and cardboard. They can be awkward to repot but once the jobs done its worth it.
handle with care! - here's a good hack with folded newspaper

Another note, some succulents are extremely delicate and will drop leaves / fall apart at the slightest touch. These small nodules and leaves can be potted up to make baby plants though!

Luckily most cacti & succulents don't have deep roots and in fact most do not require massive pots either unless they are large specimens.

Always use pots with drainage, even for indoor plants unless you are sure you will never over water.

Cactus potting medium needs to be free draining but also able to anchor the plant. Some nutrients and organic matter are required along with usual inorganic grit / sand and other soil amendments.

These plants always look best with sandy / rocky substrate too - more closely replicating the desert environments they come from.


Its often said that it is better to under water a succulent than over water it. It is true that over watering can kill a cactus very quickly where as they can tolerate dry periods for extended amounts of time. However if you want plants to grow and thrive then sufficient water should be given! A good rule of thumb is never to water in winter, water a little when it warms up in spring and perhaps once a week during summer, cutting right back as it gets colder again. None of these plants will tolerate extended periods of water, moist soggy soil or water logging can quickly kill a plant. Using rain or purified water can prevent the build up of minerals over time and is the best water to use most of the time, tap water wont kill a plant though and is fine to use in most instances.

A good general potting mix recipe for succulents is 50% soil / loam / compost to 50% drainage material.

Straight compost / house plant potting mix will usually be too moisture retentive and cause root rot for most species.

Try our Cactex range of potting mediums for cacti - see here.

Cactex potting Grit is available in the shop - enhanced with horticultural charcoal

Succulents are generally grown for interesting architectural forms but many are capable of producing gorgeous flowers! -if you plants flowers then you are doing something right, it is a great joy to see a cactus bloom and often a nice surprise.

Terracotta / Stone pots dry out quicker than plastic so they are the favourite with these type of plants.

A spot with good air circulation is also highly recommended to keep plants healthy - warmth and sunlight are of course super important!
Always place cacti and succulents in the brightest spot where they will get at least some direct sunlight for part of the day.
South facing windows best! - A greenhouse or conservatory makes the ideal home for these plants where they can receive bright sunlight and warmth from multiple directions. Its OK for them to get cooler in winter but many species wont like it freezing - whatever you do try to keep them dry in colder months.

Growing Cacti Outdoors In the UK
Many popular spineless succulents will live happily in the garden, perhaps just protecting from very cold frosts. surprisingly too,  many of the larger cactus  species can be enjoyed outside even here in the UK! 😎

Most species can be taken outside on sunny days to enjoy a bask in the sun.🌞

Generally cactus for outdoors in this country are best kept in pots, that way they can be moved to shelter during wet and cold weather.


They can even flower and bear fruit outside too!

The Prickly pear opuntia cactus in full bloom - capable of growing outside in UK! WITH SOME SPECIAL CARE

One of the larger cactus species that does particularly well is Opuntia (prickly pear) Most types of these plants can tolerate the cold to a certain degree and even a little wet weather - one of the best subjects for outdoors. We move are plants into the green house when it turns cold and put them back out in spring. They are capable of growing pretty quick even in our climate and can add another dimension to your garden or patio. Just be careful of those pesky spines!

Another good candidate for pots outside is Euphorbia (not actually a true cactus but a lovely group of plants all the same with lots of forms Including cactus like columns that tend to fair well outdoors from spring to autumn - these are kind of the African equivalent of true cacti )

Euphorbia  - a varied group that includes Africa's 'equivalent' to CACTI
REPOTING EXAMPLE
Below is an example of repotting an Opuntia Cactus that needs some TLC.
This one has spent the winter outdoors.
This one needs repotting   - Its one I had previously given to a friend - I promised to sort it out and give it back to her.

The repotting process - given a much larger pot and some succulent companions 😊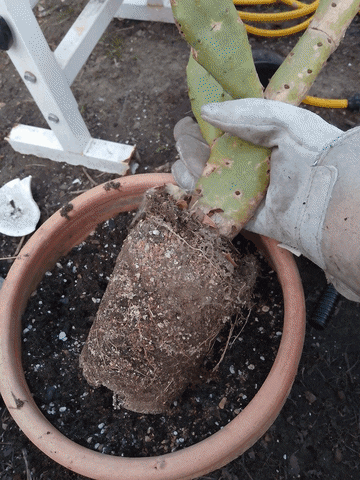 Hopefully as the weather improves these plants will thrive - its still a fairly cold April at the mo.
the finished result:
No I have not been drinking on the job again 😉 .. Jaeger for size reference only!
Potted with some fresh compost mixed with Cactex Grit, some sand, lava rocks and pebbles.
To be kept outside on a sunny balcony - a bit of warm weather and sunshine and this prickly pear  (Opuntia species) and its new mates should become healthy again and put on some growth 🌻☀
Probably best taken indoors in around November before any cold weather.


One last point: cacti can be quite susceptible to pest and disease, indeed professional growers recommend Quarantining all new plants before mixing with your collection. Particularly common are mealy bugs, which can spread from pant to plant and look like small cotton wool like growths, thankfully products are available to help control these pests, manual removal often the best solution. Just check your plants carefully and examine regularly. If left unchecked pest can ruin your plant collection. Harder to irradiate is a form of mealy bug that live sin the roots. If your plants don't seem healthy but there are no obvious signs of pests and conditions seem right it could be worth checking what's below the soil as some pests live in the dirt - if in any doubt just repot with as much fresh potting mix as possible.

🌵 MAIN TIPS FOR CACTI GROWING:

✔ WELL DRAINING GRITTY SUBSTRATE
✔ POTS WITH DRAINAGE HOLES BEST (Essential outdoors!)
✔ STONE & TERRACOTA POTS Preferred
✔ SUN, SUN, SUN ! CHOOSE THE BRIGHTEST POSSIBLE SPOT for most true cacti species
✔ GOOD AIR CIRCULATION INDOORS - BUT NOT TOO COLD
✔ AVOID SOGGY SOIL and WATER LOGGING
✔ KEEP AN EYE OUT FOR PESTS
✔ DONT WATER IN WINTER
✔ DO WATER IN SUMMER BUT DONT OVER DO IT
✔FEED ONCE A YEAR
✔ TURN PLANTS REGULARY THAT ARE KEPT ON WINDOW SILLS
✔ BE CAREFULL WHEN HANDLING!
✔ RESEARCH YOUR EXACT SPECIES AND SEE WHAT IT REQUIRES
note: these tips apply to desert / dry climate species - there are some 'jungle cacti' from more humid rainforest that enjoy more moisture and shade for example the Christmas cactus.

See our range of Cactus products here

A Ellis, April 2022





read more about Cactex the perfect potting soil for succulents here